Jesus called Christians to be good stewards and not complainers
"Genesis commences with the creation of the world, because the heavens and the earth form the appointed sphere, so far as time and space are concerned, for the kingdom of God; because God, according to His eternal counsel, appointed the world to be the scene both for the revelation of His invisible essence, and also for the operations of His eternal love within and among His creatures; and because in the beginning He created the world to be and to become the kingdom of God. The creation of the heaven and the earth, therefore, receives as its centre, paradise; and in paradise, man, created in the image of God, is the head and crown of all created beings. The history of the world and of the kingdom of God begins with him."

Keil and Delitzsch OT Commentary / Genesis 1 Keil and Delitzsch OT Commentary (biblehub.com)
"And God said, Let us make man in our image, after our likeness: and let them have dominion over the fish of the sea, and over the fowl of the air, and over the cattle, and over all the earth, and over every creeping thing that creepeth upon the earth. 27So God created man in his own image, in the image of God created he him; male and female created he them. 28And God blessed them, and God said unto them, Be fruitful, and multiply, and replenish the earth, and subdue it: and have dominion over the fish of the sea, and over the fowl of the air, and over every living thing that moveth upon the earth."

Genesis 1:26-28
Sin has not relieved us of our duties.
Modern Christianity, with its fascination with end-times prophecies, has lost its bearings. We have concluded the world is so bad the only hope is for Jesus to come. Yes, it is true our only hope for a peaceful world is Jesus. However, we have used that as a mindset become poor stewards of His creation. After all, this still is God's earth. God is interested in the whole creation, not only humans.
"For we know that the whole creation groaneth and travaileth in pain together until now."

Romans 8:22
The harm our earth has seen is because of man's sin. We are the ones, fallen or not, held responsible for God's creation. When Jesus preached His good news of the Kingdom, He backed it up with healing.
"And Jesus went about all Galilee, teaching in their synagogues, and preaching the gospel of the kingdom, and healing all manner of sickness and all manner of disease among the people."

Matthew 4:23
"Then Jesus answering said unto them, Go your way, and tell John what things ye have seen and heard; how that the blind see, the lame walk, the lepers are cleansed, the deaf hear, the dead are raised, to the poor the gospel is preached."

Luke 7:22
Christian Complainers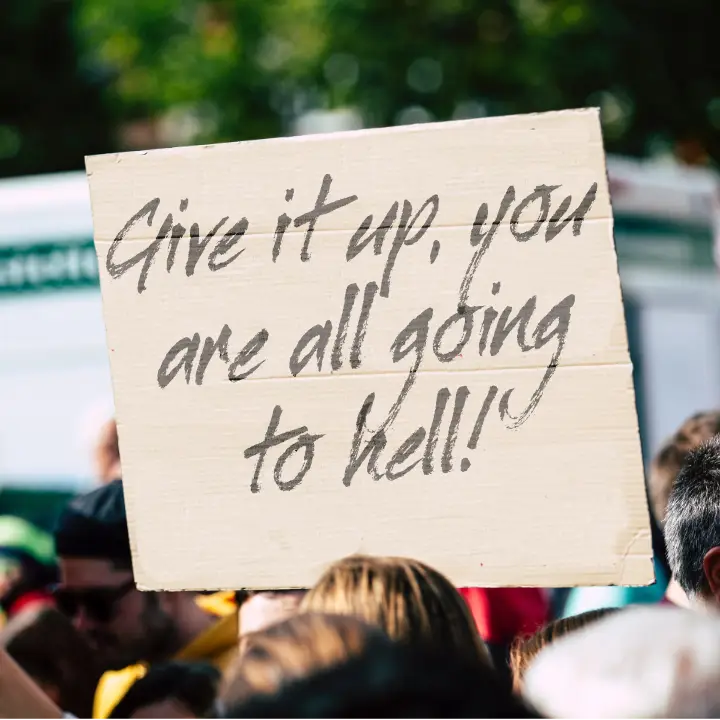 Christianity has become a religion of negativity. A group of complainers, always saying the sky is falling. Standing on the sidelines and never pitching in. People don't want to listen to complainers. If we can't help solve problems, our Gospel message of a new kingdom without suffering and death has no substance. We all understand that helping someone get better and not addressing their need for Jesus is vanity. However, as James said, our faith is worthless if all we do is talk.
I want to share a movie with you that I thought was inspirational. I imagined that if Christians were this innovative in helping out with caring for people, our message would be far more powerful. I know Christians are doing great things, and I am not addressing them. I am writing this to those who find fault in everything new and are not concerned about improving the world. If you know someone like this, kindly rebuke them.
Here is the movie, and it is not the delivery drone that I want you to think about.
Life is won or lost in the mind!